Just banging things off the list in anticipation for Spring since the snow is receding every day. Now watch, it will snow a foot over night. Any-who, we completed the fuel system tonight, running 1/2" aluminum line from the fuel cell to the pump and filter and all the way up to the nifty aluminum fuel log that Chris constructed. Everyone is really happy that he's been practicing his aluminum welding. From there we will be running braided steel line with one regulator for each carb but not until the motor is in place.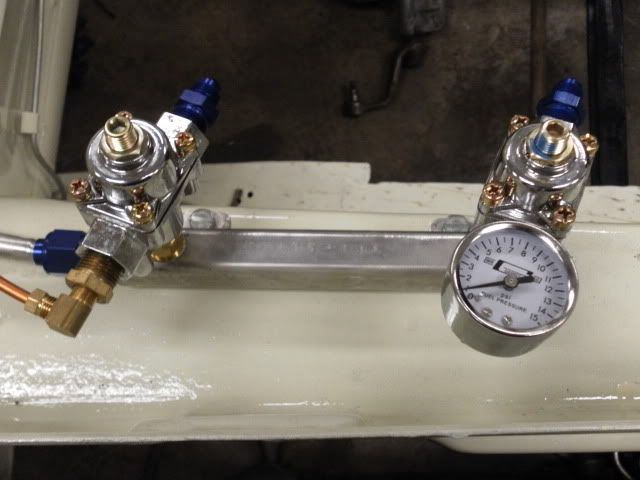 We then moved on to stringing the cables for the emergency brake system. Why on Earth would you run an E-brake in a race car I find you asking. Well, when you tend to trailer your car for hundreds of miles in order to find one flat stretch of track, your car tends to bounce and wiggle along the way. Since the original E-brake worked perfectly it seemed a shame not to put it back in place, just a bit shorter since the rear axle now lives a foot forward.
After that we proceeded to fabricate mounts for our 90/10 front drag shocks, also from Calvert Racing but not adjustable like the rears. We'll have to clean up all the fresh welds then touch up the paint before mounting them for real. The list is getting shorter which means that I can no longer procrastinate doing body work. Kill me now.